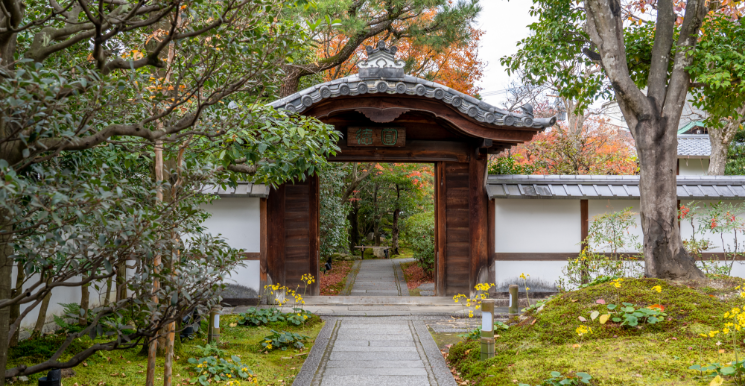 「唐門」
Delivering a Space of Shared Happiness
Entoku-in
The warmth of Nene remains in this place even now.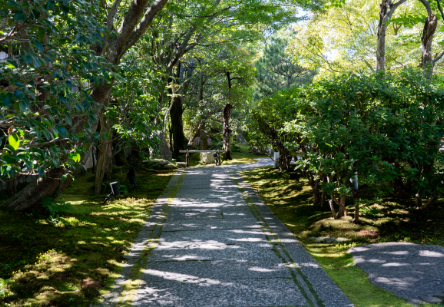 The path leading from the Karamon Gate to the abbot's chambers.
Toyotomi Hideyoshi was one of the great unifiers of Japan and Entokuin was built by his wife, Nene. It was here that she chose to spend her final days after her husband passed away.
After the death of her husband, Nene became a nun and was given a new name, Kōdai-in, by the emperor. With the assistance of another samurai lord, Tokugawa Ieyasu, she had the temple Kōdaiji built in memorial of her departed husband to carry out prayers for his soul.
Later, in 1605 she commissioned that one of the buildings from Fushimi Castle, where she had many memories with her husband, be moved nearby along with its gardens. The structure was relocated to Entokuin and Nene began to live there and commuted to ajacent Kōdaiji in order to pray. The path in front of Entokuin is now refered to as Nene no Michi or Nene's Path. Her devotion to her husband is remarkable as they had married for love in an age where that was not common. Nene was known for her affable personality and was widely adored. During the 19 years she spent living at Entokuji until her death at 77 many notable court nobles, intellectuals, samurai warlords and their wives called upon her here.
Paintings of snow, the moon, and flowers
Splendid paintings that represent a past era.
The rooms of Entokuin are decorated with golden screens with paintings depicting pine, bamboo, and plum blossoms, as well as snow, the moon and flowers. Another highlight is a painting of a brilliant white dragon.
These paintings represent the life of Toyotomi Hideyoshi, who was born a farmer but rose to prominence as a samurai, eventually uniting and ruling over Japan. They are painted in the bright, vivid style he was known to love.
On display are also ink paintings by Hasegawa Tōhaku, a prominent painter of the Azuchi-Momoyama period, making them almost 400 years old. Tōhaku was patronized by Hideyoshi and his works were highly valued.
In the modern day there are very few artists who work on such a large scale, making these screens extraordinarily valuable works of art.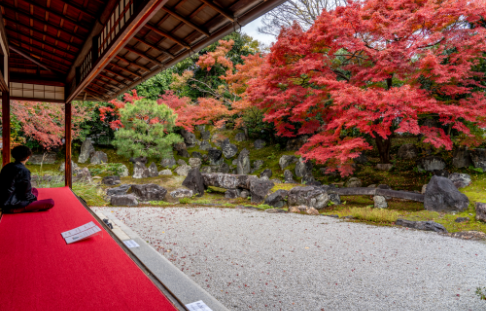 The North Garden
A garden that represents the love between Hideyoshi and Nene
Some of the main features of Entokuin are its two gardens. They are especially beautiful in the autumn when the crimson leaves make the garden truly radiant.
The north garden was moved from Fushimi Castle by Nene and was rebuilt just as it had been. Today, it remains an exemplary model of a garden of the Azuchi-Momoyama period and has been designated a Place of Scenic Beauty by the Japanese government. What distinguishes the north garden are the large number of boulders set in its center. Their wild roughness brings to mind the exuberance that Hideyoshi was known for.
On the other hand, the south garden was constructed with Nene's tastes in mind. The garden features large stones off to the side and a variety of different flowers that can be enjoyed throughout the seasons. Viewing the garden one can come to understand the sort of refined gentlewoman which Nene must have been.
Tea is served in the room overlooking the north garden and visitors are invited to sit for awhile and let their imagination wander. While watching a cup of tea being made it is easy to feel as though one is receiving the hospitality that Hideyoshi would have also enjoyed 400 years ago.
Delight born from a gorgeous space.

The South Garden
Higashiyama ward, where Entokuin is located, has a long history of being the heart of Kyoto sightseeing and travelers have been visiting the area since the Edo period.
Even within the many sights in the area, Entokuji is remarkable for its intentionally extravagant and brilliantly decorated spaces. It was designed this way because luxurious and grand designs were what Toyotomi Hideyoshi found appealing. Entokuin also values being known as a place where people from all walks of life, from anywhere in the world, can come together and communicate with one another.
It is the temple's strong desire to, as eras and people change, search out and understand what people are seeking and strive to become a place where visitors can feel a sense of happiness and peace.
Entoku-in
Opening Hours: 6:00~17:00
HP:http://www.kodaiji.com/entoku-in/pdf/entokuin_e.pdf
530 Shimokawaracho, Higashiyama-ku, Kyoto
View in Google Maps
Nearest Station: Kyoto Subway - Higashiyama Station (13 minute walk away)
Nearest Bus Stop: Kyoto City Bus - Higashiyama Yasui (7 minute walk away)
Entrance Fee: 500 yen for adults, 200 yen for middle and high schoolers